Descrição

Pre-load now and be the first one to play the 12/10/2012 at 00:01!
Your download links and activation codes will be sent by email immediately.
And you can play Civilization V right now!

PRE-ORDER OFFER #1: A FREE COPY OF SID MEIER'S CIVILIZATION V
---
Pre-order XCOM:Enemy Unknown now and receive a free copy of Civilization V!
PRE-ORDER OFFER #2: XCOM: ELITE SOLDIER PACK DLC
---
Pre-Order now to receive the Elite Soldier Pack DLC, included at no additional charge while supplies last. The Elite Soldier Pack includes:
Classic X-COM Soldier: Instantly unlock a new recruit in your barracks inspired by the original X-COM: UFO Defense. The blonde, flattop hairstyle will return in its full glory, modernized with the rest of the XCOM universe.
Soldier Deco Packs: Customize your soldiers with several aesthetic upgrades to armor suits including the new Hyperion and Reaper soldier armor kits
Complete Color Customization: A variety of colors and tints for all armor sets provides complete customization of your squad's appearance.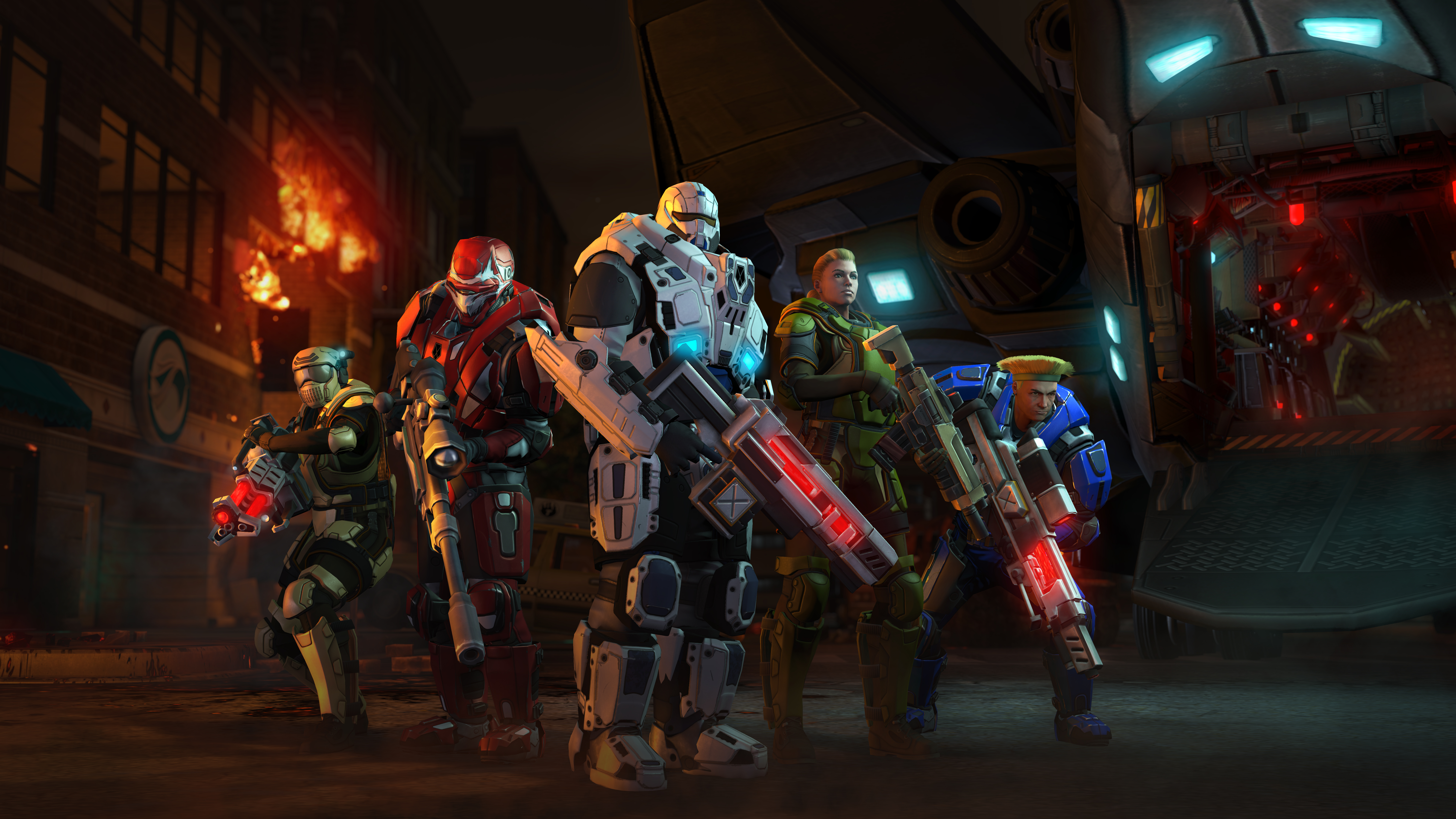 NOTICE: Este software não pode ser autenticado em computadores fora do Brasil. Este conteúdo utiliza Steamworks e requer o aplicativo STEAM para ativação, download e instalação.
ABOUT THE GAME
---
Threatened by an unknown enemy, the Earth's governments unite to form a secret paramilitary organization, known as XCOM, to combat this extraterrestrial attack. As the commander of XCOM, you control the global defense team and its resources in a battle against the terrifying alien invasion.
XCOM: Enemy Unknown is a reimagining of X-COM, the classic strategy game from 1993, and developed by the award-winning creators of Civilization. You will control the fate of the human race by creating and managing a fully operational base, researching alien technologies, planning combat missions, and controlling soldier movement in battle.
KEY FEATURES
---
Worldwide Threat: Combat spans the globe as the XCOM team engages in over 70 unique missions, interacting and negotiating with governments around the world.
Strategic Base: Recruit, customize and grow unique soldiers and manage your personnel. Detect and intercept the alien threat as you build and expand your XCOM headquarters.
Strategy Evolved: XCOM: Enemy Unknown couples tactical turn-based gameplay with incredible action sequences and on-the-ground combat.
Tactical Combat: Direct soldier squads in turn-based ground battles and deploy air units such as the Interceptor and Skyranger.
SYSTEM REQUIREMENTS
---
Minimum:
OS: Windows Vista
SOFTWARE: Steam Client
PROCESSOR: 2 GHz Dual Core
MEMORY: 2 GB RAM
HARD DRIVE: 20 GB free
VIDEO MEMORY: 256 MB
VIDEO CARD: NVIDIA GeForce 8600 GT / ATI Radeon HD 2600 XT or greater
SOUND CARD: DirectX Compatible
Recommended:
OS: Windows 7
PROCESSOR: 2 GHz Dual Core (Intel Core 2 Duo 2.4 GHz or Athlon X2 2.7 GHz)
MEMORY: 4 GB RAM
HARD DRIVE: 20 GB free
VIDEO MEMORY: 512+ MB
VIDEO CARD: NVIDIA GeForce 9000 series / ATI Radeon HD 3000 series or greater
SOUND CARD: DirectX Compatible
Other Requirements & Supports: Initial installation requires one-time internet connection for Steam authentication; software installations required (included with the game) include Steam Client, Visual C++ 2008 Redistributable, DirectX and Microsoft .NET 4
---
© 1994-2012 Take-Two Interactive Software, Inc. Take-Two Interactive Software, Inc., 2K, 2K Games, Firaxis Games, XCOM, and XCOM: Enemy Unknown, and their respective logos are trademarks of Take-Two Interactive Software, Inc. The ratings icon is a trademark of the Entertainment Software Association. Unreal® is a registered trademark of Epic Games, Inc. Unreal® Engine, Copyright 1998-2012, Epic Games, Inc. Uses Bink Video Technology. Copyright © 1997-2012 by RAD Game Tools, Inc. This software product includes Autodesk® Scaleform® software, © 2012 Autodesk, Inc. Autodesk, and Scaleform are registered trademarks or trademarks of Autodesk, Inc., and/or its subsidiaries and/or affiliates in the USA and/or other countries. © 2012 NVIDIA Corporation. All rights reserved. NVIDIA, the NVIDIA logo, PhysX, The way it's meant to be played, and 3D Vision are trademarks or registered trademarks of NVIDIA Corporation in the U.S. and other countries. All rights reserved. All other marks are property of their respective owners.
Not available to:
Afghanistan;Aland Islands;Albania;Algeria;American Samoa;Andorra;Angola;Anguilla;Anonymous Proxy;Antarctica;Antigua and Barbuda;Argentina;Armenia;Aruba;Asia/Pacific Region;Australia;Austria;Azerbaijan;Bahamas;Bahrain;Bangladesh;Barbados;Belarus;Belgium;Belize;Benin;Bermuda;Bhutan;Bolivia;Bosnia and Herzegovina;Botswana;Bouvet Island;British Indian Ocean Territory;Brunei Darussalam;Bulgaria;Burkina Faso;Burundi;Cambodia;Cameroon;Canada;Cape Verde;Cayman Islands;Central African Republic;Chad;Chile;China;Christmas Island;Cocos (Keeling) Islands;Colombia;Comoros;Congo;Congo, The Democratic Republic of the;Cook Islands;Costa Rica;Cote D'Ivoire;Croatia;Cuba;Cyprus;Czech Republic;Denmark;Djibouti;Dominica;Dominican Republic;Ecuador;Egypt;El Salvador;Equatorial Guinea;Eritrea;Estonia;Ethiopia;Europe;Falkland Islands (Malvinas);Faroe Islands;Fiji;Finland;France;French Polynesia;French Guiana;French Southern Territories;Gabon;Gambia;Georgia;Germany;Ghana;Gibraltar;Greece;Greenland;Grenada;Guadeloupe;Guam;Guatemala;Guernsey;Guinea;Guinea-Bissau;Guyana;Haiti;Heard Island and McDonald Islands;Holy See (Vatican City State);Honduras;Hong Kong;Hungary;Iceland;India;Indonesia;Iran, Islamic Republic of;Iraq;Ireland;Isle of Man;Israel;Italy;Jamaica;Japan;Jersey;Jordan;Kazakstan;Kenya;Kiribati;Korea, Democratic People's Republic of;Korea, Republic of;Kuwait;Kyrgyzstan;Lao People's Democratic Republic;Latvia;Lebanon;Lesotho;Liberia;Libyan Arab Jamahiriya;Liechtenstein;Lithuania;Luxembourg;Macau;Macedonia;Madagascar;Malawi;Malaysia;Maldives;Mali;Malta;Marshall Islands;Martinique;Mauritania;Mauritius;Mayotte;Mexico;Micronesia, Federated States of;Moldova, Republic of;Monaco;Mongolia;Montenegro;Montserrat;Morocco;Mozambique;Myanmar;Namibia;Nauru;Nepal;Netherlands;Netherlands Antilles;New Caledonia;New Zealand;Nicaragua;Niger;Nigeria;Niue;Norfolk Island;Northern Mariana Islands;Norway;Oman;Other;Pakistan;Palau;Palestinian Territory;Panama;Papua New Guinea;Paraguay;Peru;Philippines;Pitcairn Islands;Poland;Portugal;Puerto Rico;Qatar;Reunion;Romania;Russian Federation;Rwanda;Saint Pierre and Miquelon;Saint Helena;Saint Kitts and Nevis;Saint Lucia;Saint Vincent and the Grenadines;Samoa;San Marino;Sao Tome and Principe;Satellite Provider;Saudi Arabia;Senegal;Serbia;Seychelles;Sierra Leone;Singapore;Slovakia;Slovenia;Solomon Islands;Somalia;South Africa;South Georgia and the South Sandwich Islands;Spain;Sri Lanka;Sudan;Suriname;Svalbard and Jan Mayen;Swaziland;Sweden;Switzerland;Syrian Arab Republic;Taiwan;Tajikistan;Tanzania, United Republic of;Thailand;Timor-Leste;Togo;Tokelau;Tonga;Trinidad and Tobago;Tunisia;Turkey;Turkmenistan;Turks and Caicos Islands;Tuvalu;Uganda;Ukraine;United Arab Emirates;United Kingdom;United States;United States Minor Outlying Islands;Uruguay;Uzbekistan;Vanuatu;Venezuela;Vietnam;Virgin Islands, British;Virgin Islands, U.S.;Wallis and Futuna;Western Sahara;Yemen;Zambia;Zimbabwe